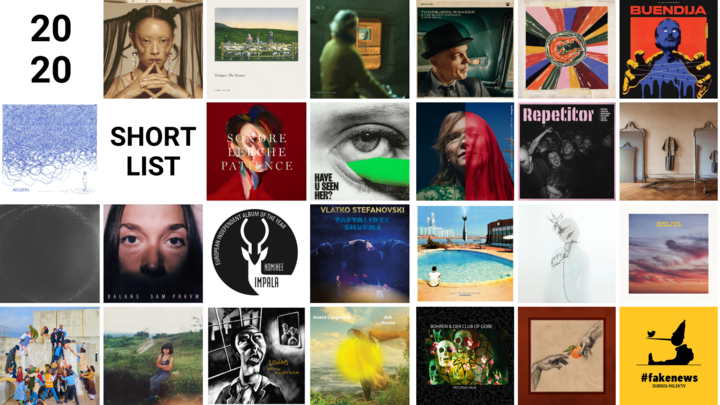 25 jelölés érkezett az idei IMPALA Album of the Year Award-ra – itt a shortlist
Annak ellenére, hogy 2020 enyhén szólva is hektikus volt, világszerte zseniális albumok születtek, és ezek jó része független kiadók gondozásában jelent meg. És, persze, az IMPALA éves Az Év Független Albuma-díj sem maradhat el, az év végén mi is összeállítottuk a hazai shortlistet, amit itt találtok.
Tőlünk a Fran Palermo új lemeze ment tovább az európai listára, amit itt és most mutatnunk meg frissiben, ábécé-sorrendben:
ALEJUANDRO BUENDIJA – "Škrinja" (Dallas Records)
Alma – "Have U Seen Her?" (PME Records)
Ane Brun – "After the Great Storm/How Beauty Holds the Hand of Sorrow" (Balloon Ranger Recordings)
Aneta Langerová – "Dvě slunce" (Art Shock s.r.o.)
Anushka Chkheidze – "Halfie" (CES Records)
Balans – "sam pravm" (KAPA Records)
Blanche – "Empire" ([PIAS] Recordings)
Bohren & Der Club Of Gore – "Patchouli Blue" ([PIAS] Recordings / Ipecac Recordings)
DANNY VERA – "The New Now" (Excelsior Recordings)
Diodato – "Che Vita Meravigliosa" (Carosello Records)
Dubioza Kolektiv – "#fakenews" (Menart)
FRAN PALERMO – "Crocodile Juice Bar" (MZK Publishing)
KUSH K – "Lotophagi" (BlauBlau Records)
MaJLo – "Vestiges: The Scenes" (Seagull Ross)
MY UGLY CLEMENTINE – "Vitamin C" (Ink Music)
NOISERV – "Uma Palavra Começada Por N" (Noiserv – SME Portugal)
Repetitor – "Prazan prostor među nama koji može i da ne postoji" (Moonlee Records)
Rina Sawayama – "SAWAYAMA" (Dirty Hit)
RONE – "Room With A View" (InFiné)
Sondre Lerche – "Patience" (PLZ/ EDDA MUSIC)
THORBJØRN RISAGER & THE BLACK TORNADO – "Come On In" (Cope (DK)/ Ruf Records (DE))
TRIÁNGULO DE AMOR BIZARRO – "Triángulo de Amor Bizarro" (Mushroom Pillow)
VALERIA STOICA – "I Don't Like Roses" (Uninvited Artists)
VLATKO STEFANOVSKI – "Taftalidze Shuffle" (Croatia Records)
ŽIDRŪNS – "Kovārņu mazbērniem" (I Love You Records)
Hallgassatok bele….
Az IMPALA összeállított két playlistet is a nevezettekből, egyet csak a single-ökre, egyet teljes albumokra, csekkoljatok rá a kedvenc platformotokon:
Spotify – 2020 – IMPALA Album of the Year Award – Albums  – 2020 – IMPALA Album of the Year Award – Singles
Deezer – 2020 – IMPALA Album of the Year Award – Albums  – 2020 – IMPALA Album of the Year Award – Singles