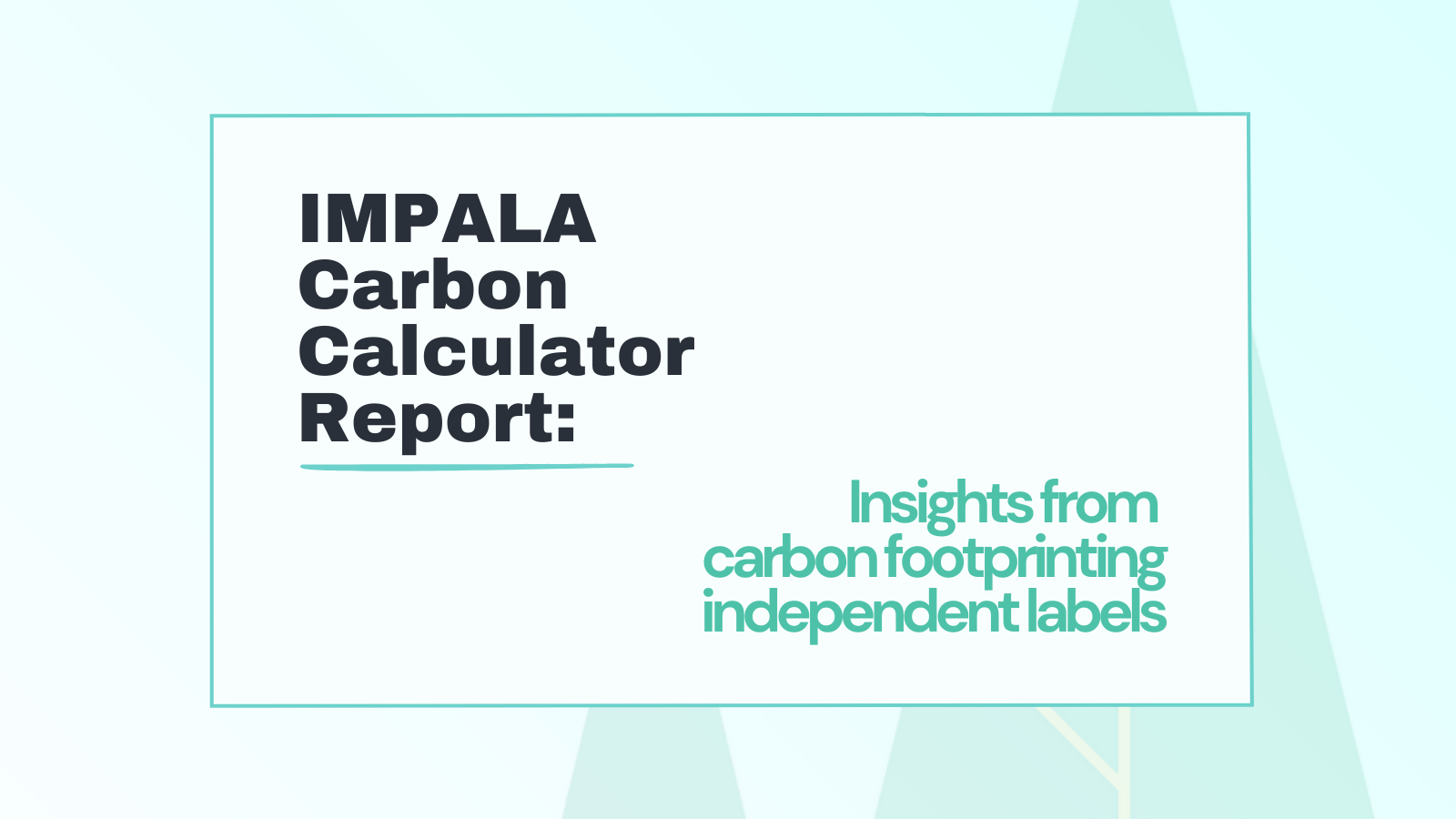 IMPALA Releases First Report of the Indie's Carbon Foorprint
Following this year's EU Green Week Conference, IMPALA is releasing its first membership Carbon Calculator report, accessible here.
The free Calculator is part of IMPALA's Sustainability Programme which encompasses a long-term action plan to support members on environmental objectives, announced in April 2021 and launched in April 2022. The launch was followed by a short EU supported training programme IMPACTS from September 2022 to Spring 2023, in selected countries. The report details the findings from data submitted by independent labels to the IMPALA Carbon Calculator since April 2022. Using this data, it has been possible to estimate the average label carbon footprint on a per physical-unit-released basis for those using the tool, as well as to identify the typical emission hotspots for independent labels.
The report also includes immediate and longer-term actions that can be taken to reduce the key emissions sources for record labels (including products, services and operations) and case studies of companies leading the way in the music sector, as well as testimonials of tool users. A review of the measures businesses are taking "beyond carbon" is also included underling the most common approaches in the independent sector.
The more data that is entered into the free Calculator by IMPALA's members, the more powerful it will become as an instrument to support business decisions and manage environmental impacts. This will also help to build a more accurate and representative picture of the overall carbon footprint for the independent recorded music sector. IMPALA members are invited to join more than 100 users already using the tool and start measuring their carbon footprint here. Future plans also include making the tool available outside of Europe, as well as continuing our collaboration and alignment to be able to share the tool with industry partners and devise a standard approach to carbon accounting and other sector action as envisaged under the Music Climate Pact.
IMPALA also calls on the EU and national governments to provide support programmes that provide transition pathways within the cultural sector. Culture needs to be put at the heart of development policies as it can act as a catalyst for a just and sustainable transition of the society. The importance of music and culture should be reflected in all high-level initiatives and policy negotiations, including the EU Green Week. Transition to clean energy for manufacturing such as through large scale investment in hydrogen is also flagged as essential for the sector to achieve its targets. National and EU engagement on this is also a key recommendation.
Horst Weidenmüller, Chair of IMPALA's task force, and CEO of !K7 commented: "Being part of the wider independent community, we believe in the need to act as a responsible member of the music industry. When we founded the IMPALA Sustainability Task Force in 2020 we had ambitious goals and an action plan in place to help support the independents who wanted to make a change with their business. Making a carbon calculator available for free is key and this first report is an important start in mapping the sector's hotspots. We see sustainability as something that should be central to all companies, helping reduce our energy consumption, but also the right business decision as more and more employees look to be part of a responsible working environment."
Helen Smith, Executive Chair of IMPALA added: "The independent music sector has a great potential to act as a catalyst for broader change. The IMPALA Carbon Calculator is testament to this, being fully funded by a group of our members who made the tool available for free to all IMPALA members. We thank all contributors for helping champion this. Rolling it out internationally, as well as collaboration and alignment with the broader industry is key to have common tools and a standard approach. We also count on national and European governments to support this transition and make sustainable energy widely available for everyone, especially when it comes to sources like hydrogen needed at scale for manufacturing."
Alison Tickell, founder and CEO of Julie's Bicycle, and adviser to IMPALA's task force, concluded: "In developing the first Carbon Calculator for the recorded music sector, IMPALA has demonstrated how a unified approach to environmental challenges can galvanise support and action from across the industry. As this report highlights, significant progress has been made toward that understanding, using the data that has been submitted to the IMPALA Carbon Calculator since its launch in April 2022. In the context of European climate targets, the insights from the IMPALA Carbon Calculator will be vital in monitoring progress and informing shared actions to make the urgent emissions cuts we need in the sector and more widely."
Examples of reports produced with the Carbon Calculator
What some of the tool users say about the Calculator
"At [PIAS] we are dedicated to reducing our impact on the planet – from within each of our offices around the globe to across our entire distribution network. Working out our current carbon footprint in the UK was the first step to set ourselves a measurable, realistic target to work towards. IMPALA's Carbon Calculator has been essential in helping us do this. The tool was easy to use and we were grateful for the support from the Julie's Bicycle team throughout the process. Now we have our total figure for last year, we've been able to assess each area of the company and use the data to spur staff to action. "
Louise Sizer, Sustainability Team [PIAS] , UK
"IMPALA's Carbon Calculator is a powerful yet simple to use tool that's quickly become our main source of sustainability analysis. We do yearly reporting, which only takes a couple of hours, and has enabled us to see our performance in reducing emissions and identify areas to improve."
Kristoffer Rom, Tambourhinoceros, Denmark
"IMPALA's Carbon Calculator simplifies carbon emissions accounting. It also generates reports, which provide top-line insight as to where to focus reduction efforts. Crucially, the initiative supports increased label industry alignment around our shared sustainability challenges."
Anna Johnson, Anjunabeats, UK
"We have been using the Carbon Calculator for a while now, and I must say it has been a game-changer in our sustainability journey. The tool's user-friendly interface made it incredibly easy for us to calculate our carbon footprint accurately. Submitting our footprint not only gave us a clear understanding of our environmental impact but also empowered us to make informed choices and actively reduce our carbon emissions."
Ionut Polexe, Roton Music, Romania
"[The Carbon Calculator] demonstrated that some of our assumptions were wrong and has informed and shaped changes in working practice and reinforced our policy to influence client and visitor behaviour."
Dutch Van Spall, Big Help Music, UK
I found [the Carbon Calculator] very inspirational and will use it as a checklist and something to help me make good decisions ahead."
Mats Hammerman, Massproduktion, Sweden
About IMPALA
IMPALA was established in 2000 and now represents nearly 6000 independent music companies. 99% of Europe's music companies are small, micro and medium businesses and self-releasing artists. Known as the independents, they are world leaders in terms of innovation and discovering new music and artists – they produce more than 80% of all new releases and account for 80% of the sector's jobs. IMPALA's mission is to grow the independent music sector sustainably, return more value to artists, promote diversity and entrepreneurship, improve political access, inspire change, and increase access to finance. IMPALA works on a range of key issues for its members, runs various award schemes and has a programme aimed at businesses who want to develop a strategic relationship with the independent sector – Friends of IMPALA. Sustainability of the sector is one of our key priorities. In 2022 we launched a key European co-funded project IMPACTS and #WeMeasureTogether, a campaign to promote the Calculator take-up.
About Julie's Bicycle
Julie's Bicycle is a pioneering not-for-profit organisation mobilising the arts and culture to take action on the climate and ecological crisis. Founded in 2007, JB's origins were in the music industry. Now working right across the cultural sector, JB has partnered with over 2000 organisations in the UK and internationally. Combining cultural and environmental expertise, Julie's Bicycle focuses on high-impact programmes and policy change to meet the climate crisis head-on. We exist at the heart of a thriving informal network of people who share our vision, supporting others on their journey, and helping to catalyse new projects at the intersection of culture and climate. juliesbicycle.com
About IMPALA Carbon Calculator
The IMPALA Carbon Calculator is the first bespoke carbon calculator and environmental impact measurement tool for the independent recorded music sector, built with the support of the IMPALA membership and powered by the Julie's Bicycle Creative Climate Tools platform. The Calculator helps IMPALA's members measure their carbon footprint and identify hotspots to make members' ambitions actionable, impactful, and scalable. It also helps collect information on how the independent music sector in Europe is taking environmental action Beyond Carbon. Thanks go to all the IMPALA member companies and associations across Europe who helped raise the finances needed to get our calculator project off the ground (in alphabetical order): !K7 Music Group, Altafonte, Anjunabeats, Because Music, Beggars Group, Cherry Red Records, City Slang, Domino Recording Company, Edel, Encoding Management Service – EMS, Epitaph Records, Everlasting Records, FONO, FUGA, HAIL, Hot Action Records, Irascible Music, Las Vegas Records, Lusitanian Music Publishing, Mouthwatering Records, N.E.W.S. Records, Ninja Tune, Partisan Records, [PIAS], Playground Music Scandinavia, PMI, Roton Music, Secretly Group, TAMBOURHINOCEROS, Two Gentlemen, Warp Records, Zebralution.